Latest Research. Fewer Visits. Best Results.
Strive! Physical Therapy Centers have provided comprehensive physical therapy and rehabilitation services in the Ocala area since 1984.

Get a Free Consultation
Stopping Your Pain for Over 30 years!
We are dedicated to providing you with the highest level of professional care and
proven results, helping you return to your active lifestyle as quickly and safely as possible.

We're also your neighbors. We live and work right here in your community and
have a personal interest and commitment to your health and well-being.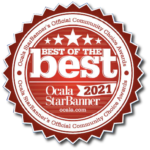 Voted Ocala StarBanner Magazine's "Best of the Best" in Physical Therapy for 2021
SPECIALIZED HAND THERAPY
Specialized Hand Therapy is
provided by a skilled occupational
therapist specialized in treating
the hands and upper extremity.
SPORTS MEDICINE
Sports Medicine includes sport-
specific biomechanical analysis,
joint arthometry, isokinetic testing
and return-to-sport interval programs.
OCCUPATIONAL MEDICINE
Occupational medicine is the
branch of medicine concerned
with the maintenance of health
in the workplace.
Don't Wait for The Care You Need
Let us help you get back on the road to health and happiness.