Strive! congratulates two true team players on being named April Employees of the Month.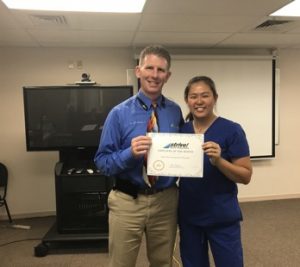 Our Inpatient Employee of the Month is Occupational Therapist Harry Choi. Harry was nominated by a coworker because of her willingness to go over and beyond for her team.
"She takes the time to educate and mentor those in need and our new employees," the nomination reads, adding that she is a hard worker, always has a positive attitude, and stays late if needed, even if it isn't her scheduled late day.
Harry manages the OT board for her Strive! colleagues who work with inpatients at Ocala Regional Medical Center.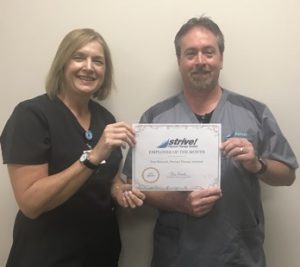 Our April Outpatient Employee of the Month is Physical Therapist Assistant Troy Hancock.
Troy was nominated for the care with which he treats both patients and coworkers.
According to his nomination, "Troy is willing to do whatever is needed and always with a smile on his face. Anytime Troy is asked to do something his answer is always 'I'm on it!' and it is taken care of quickly." Always looking to learn new skills and techniques, Troy will come in early or stay late to provide the best possible care for his patients at the West Marion Clinic.
Thank you, Harry and Troy, for exemplifying the way our employees Strive! for excellence.