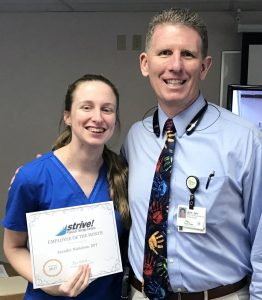 Two employees who Strive! for excellence received Employee of the Month awards in February.
Vicki Krein, patient services coordinator for Great Northern Rehab, received the Outpatient Employee of the Month award for being the "glue" that holds together patients and staff with care and efficiency.
"Vicki greets all clients by name and remembers to inquire about the special details in their personal lives," said Becky and GNR staff. They added that Vicki maximizes therapists' time in the clinic and completes her behind-the-scenes duties with accuracy beyond compare.
The Inpatient Employee of the Month award went to Jennifer Nicholson, Doctor of Physical Therapy at Ocala Regional Medical Center.
"She has come in on her days off several times this month," said Jeff and Derek, who nominated Jennifer for the award. They appreciate her willingness to always help out the team, picking up off the pick-up list even on Sundays.
Vicki and Jennifer, we appreciate your passion to succeed. It's what we all Strive! for.