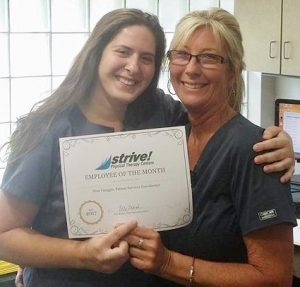 Congratulations to Nina Visaggio, our May 2017 Employee of the Month. As Patient Services Coordinator at our Maricamp and West Marion clinics, patients and staff alike find Nina a pleasure to work with.
"Nina is always a ray of sunshine at the front desk," said one Strive! team member. "The patients love her bright, happy attitude and she is always helpful to the staff. In addition, she is a hard worker willing to chip in wherever necessary."
Although she is new to Strive!, Nina has quickly taken ownership of the front desk, and everyone appreciates her extra-courteous manner and great multi-tasking skills.
Thank you, Nina, for exemplifying our Core Value of Service with your caring attitude in serving our patients and customers, and your commitment to customer service.