If you have visited our Belleview Center you know how comfortable and friendly it feels. You'll be greeted at the door with a warm smile and a fresh cup of coffee. Patient Services Coordinator Joyce Vreeland will make sure your insurance is handled correctly and your questions are answered.
Physical Therapy
Physical Therapist Jim Simpson has worked with patients for more than 30 years, and says he's still excited about physical therapy.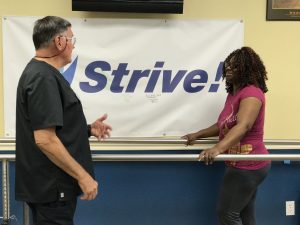 "Success is having patients be pain free and fully functional," he says, adding that he enjoys researching ways to help patients with low back pain, and he loves to help people improve their golf swing.
"I saw a patient who is the caregiver for her husband. She had been suffering with low back pain for six months," Jim says. "After six or seven visits, she is totally pain free, is lifting weight, and is back to taking care of her husband."
Physical Therapist Assistant Wes Martin trained in our clinic as a student, and has been working full time since he graduated in early 2017. Wes loves to put his expertise on the golf course to work helping his patients improve their performance.
Occupational and Hand Therapy
Occupational Therapist and Certified Hand Therapist Maria Palacio says she loves her job helping people who have hand pain or weakness because of arthritis, injuries, tendonitis, or surgery.
"We touch, we feel, we distinguish things with the hand," Maria says. "It's very complex, and getting the hand working to do everything it did before is very interesting."
Fitness
In addition to therapy and rehabilitation, many of our Belleview and The Villages neighbors enjoy working out in our gym and having access to help from our therapists. Memberships are available to anyone for $30/month without a long-term contract.
"We can guide the exercise program so it fits your individual issues," Jim says. All wellness members have the guidance of our therapists, whether or not they have been a patient. "We're here to direct your exercise program so you get the full benefit and are working in the right direction," he says.
Our Belleview Center is conveniently located on Hwy 441 just north of the 441/301 split and features the latest equipment. Let us know how we can help you Strive! for your health and wellness goals.
Strive! Physical Therapy and Rehabilitation
Belleview Center
5925 Hwy 441, Belleview FL 34420
352-307-1200
striverehab.com
Open 7 a.m. – 6 p.m. Monday – Friday