Our two most recent employees of the month stand out for the way they Strive! for productivity and promote a team atmosphere.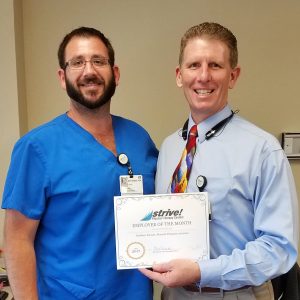 Congratulations to Matt Stewart, our May 2017 Inpatient Employee of the Month.
Matt is a Physical Therapist Assistant. His coworkers call him an "awesome team player and hard worker." Matt is known to go above and beyond to be productive and help out. He helps with new staff orientation and the gait belt class and mentors physical therapy assistant students.
Congratulations to Hugo Atehortua, our June 2017 Inpatient Employee of the Month.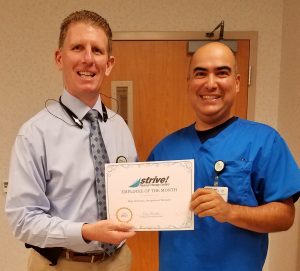 Hugo is an Occupational Therapist at Strive! West Marion Community Hospital. We hear from both patients and other staff that he provides outstanding patient care. He's known among coworkers at the ultimate team player, always gracious and respectful. Hugo is always dependable, productive, and efficient.
Thank you Matt and Hugo for demonstrating the way to Strive! for excellence every day.